Description
In this full tour you will experience the 2 faces of Tokyo: the modern and sometimes little bit crazy side, and its calm, traditional side, making for a perfect mix in 1 day!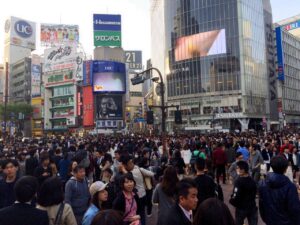 We will start the day in modern Shibuya, where we will see the statue of famous dog Hachiko and hear his moving story. The famous scramble crossing that you have likely seen more than once on TV or in movies is right next to the statue. We can tell you the best places to take great pictures from to capture the hustle and bustle that never stops in this lively area. There are a few other places of interest that we will show you in Shibuya, before we move on to the Meiji Shrine where you can indulge in some peace and quiet. This beautiful Shinto shrine in the middle of a green oasis is one of the most-visited shrines in the country, and Emperor Meiji, who the shrine is dedicated to, had a great impact on Japanese modern history that we will tell you all about.
We then walk to nearby Harajuku, the paradise for teenagers (and those who are young at heart) with shops selling and people wearing the strangest of fashions. In line with the kooky theme of this area you will get to experience the Japanese high school girl way of having your pictures taken and you can even experience a short bout of karaoke (don't be shy)!
For lunch there are several options, amongst which are the Kawaii Monster Cafe for some extra craziness, the Mos Cafe for Japanese style gourmet fast food, or you can wait for out next destination where you can tuck in to a fresh bowl of rice with the seafood toppings of your choice.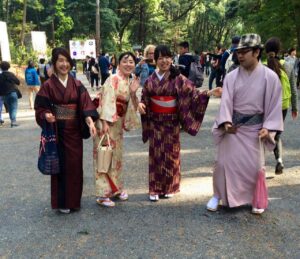 Our next destination is Ueno, where we will first walk through market street Ameyoko to Ueno Park, which is full of historical sites that your guide will explain you all about. You will get an understanding of Japanese history while walking in a greener part of town, taking in the sights that are easy to miss if you don't know where to look. Finally we will walk through the famous Yanaka cemetery, a huge cemetery park where people not only come to remember their lost relatives and friends, but also to escape the rush of the city and find some quiet time. Behind the cemetery lies beautiful neighborhood Yanesen, that has largely been spared in the Second World War, making it a great place to spot many small temples and old houses, some even dating back to the Edo period (17th-19th century). Here we will conclude our tour, and we will help you get to your next destination.