You thought your grandfather was a train buff?
Sorry to break the news to you, but ol' gramps would have been a mere caboose in the train of railway geeks inJapan, where hard-core train aficionados are referred to by the somewhat affectionate term "densha otaku," or train nerds.
They're famous for feats like memorizing phonebook-size timetables and visiting every single one of the country's almost 10,000 stations.
When they aren't trying to increase their encyclopedic knowledge of all things rail, they're out looking for like-minded people to impress with it.
As it turns out, Tokyo offers the densha otaku a wide selection of railway-appropriate watering holes — or perhaps we should call them bar cars?
1. Ginza Panorama
Ginza Panorama is the model train lover's dream bar.
Not only does the counter have four separate built-in electric tracks, allowing patrons to watch trains zipping by while sipping their cocktails, but a large glass case directly opposite displays about 700 model train carriages for sale.
The drink menu has the standard beer, wine and liquor options, but visitors will likely be tempted to splurge on a train-themed cocktail, like the Romance Car, named after the Hakone-bound express, or Doctor Yellow, the nickname for the diagnostic high-speed test trains used on shinkansen routes.
There's also a full food menu.
With its mellow ambiance, mature crowd and the gentle clacking of trains as they whirl around the bar, Ginza Panorama is a relaxed place for a drink — even if you don't get giddy debating the relative merits of the Tokaido and Tohoku Lines.
Ginza Hachikan Building 8/F, 8-4-5 Ginza, Chuo-ku; +81 (0)3 3289 8700; Monday-Friday, 6 p.m.-3 a.m., Saturday, 6-11 p.m., closed Sunday; 420 yen seating charge; www.ginza-panorama.com
2. Kiha
All aboard for canned food and sake in a jar.There are two things all visitors need to know about Kiha.
One, the second floor has been lovingly kitted out to look exactly like the inside of a Tokyo subway car, complete with advertisements, hand straps, emergency call buttons and luggage racks.
Two, the only thing on the menu is canned food and one-cup sake.
From salted pork to seafood to curry, Kiha stocks an impressive selection of things to eat right out of the can. This is meant to recreate the nostalgic experience of a long train journey in the days before meal services were offered.
Most of the customers are dyed-in-the-wool otaku, as evidenced by the closet full of timetables and the rare ticket stubs adorning the tables. Like all train obsessives, of course, they're more than happy to chat with newcomers. You've been warned.
1-6-11 Horidomecho, Chuo-ku; nearest station: Ningyocho; +81 (0)3 5651 5088; Monday-Saturday, 6-11:30 p.m., closed Sunday; Kiha-sake.com
3. LittleTGV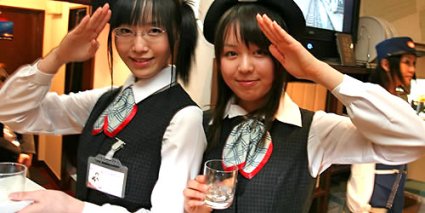 Service of a maid cafe, ambiance of a train.The world is already familiar with Japan's maid cafes and those are certainly popular with otaku of every stripe.
Real rail buffs have their own version at LittleTGV near the geek paradise of Akihabara.
The restaurant bills itself as the world's first rail-themed, moe-style pub. Instead of a pretty girl in a maid costume calling you "Master," you'll get a pretty girl in a conductor's uniform telling you to board her train. No joke. And no jokes (please).
The walls are covered with train photos and memorabilia, so even if you don't know your SLs from your JRs, the girls will be happy to chat with you and teach you a bit about their world.
LittleTGV offers a full food and drink menu with foreigner-friendly pictures, including several different courses that include all-you-can-drink options.
Isamiyadai 3 Building 4/F, Sotokanda 3-10-5, Chiyoda-ku; nearest stations: Suehirocho, Akihabara; +80 (0)3 3255 5223; Monday-Friday, 2-11 p.m., Saturday-Sunday, noon-11 p.m.;Littletgv.com
4. Mistral Bleu (Train Bar)
Soundtrack? Ozzy Osbourne's "Crazy Train," naturally.Often referred to simply as "Train Bar," Mistral Bleu isn't just a hang-out for train nerds, but it is a bar made out of a train.
Somehow a train carriage was crammed into the first floor of the ROI Building close to Roppongi Crossing and transformed into a hole in the wall bar for classic rock fans.
As the Aerosmith blasting out the front door might attest, the bar is a nostalgic pleasure for drinkers of a certain age.
In addition to the novelty of boozing in a converted train car, you can keep yourself entertained by checking out the international currencies plastered all over the walls and ceilings.
It's the kind of place where it's easy to strike up a conversation with the person sitting next to you — a rarity in Japan.
ROI Building 1/F , 5-5-1 Roppongi, Minato-ku, Roppongi station; +80 (0)3 3423 0082; Monday-Saturday, 6 p.m.-5 a.m., closed Sundays; www.trainbar.com
5. Cafe & Bar Steam Locomotive
Even buttoned-up salarymen can't resist the appeal of choo choo trains.Not every train nerd likes to booze it up. Indeed, some of them aren't even old enough to do so.
Luckily, there's a family friendly option called Cafe & Bar Steam Locomotive, which is appropriate for train lovers of all ages.
Located on the ground floor of a Yurakucho office building, this venue is more suited to a coffee over a lunch break than an after-work bender, though the place does serve alcohol.
The center of the cafe is dominated by a massive model train display that includes several tracks and recreations of famous sites like Tokyo Tower.
The endless details — tiny pedestrians crossing the street, a little grove of cherry trees in bloom — will keep the youngsters entertained while the grownups enjoy a latte or glass of sake.
Shinyurakucho Bldg 1/F, Yurakucho 1-12-1, Chiyoda-ku, Yurakucho station; +81 (0)3 3211 0610; Monday-Friday, 11 a.m.-11 p.m., Saturday 11 a.m.-10 p.m., Sunday 11 a.m.-8 p.m.; www.steamlocomotive.jp