Nissan has joined forces with the Empire. Images of stormtroopers, the shock troops seen in the Star Wars films, will be emblazoned on promotional materials up and down the country and on TV screens as the car maker enlists their help for the launch of its redesigned Juke sport-utility vehicle.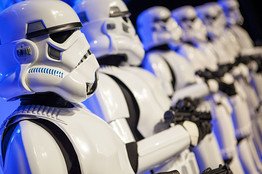 In a TV ad aimed to boost sales in a flagging market, the sporty compact turns stormtrooper heads at a futuristic base, as it shoots past with a striking red paint job featuring a white go-faster stripe. The flash of red and white then inspires one of the legion of identical stormtroopers to try out a new paint job of his own. It's not bad to stand out declares the ad's tagline.
As part of the sales campaign, which started last week, Nissan will award Stormtrooper Armor to a winner selected by lottery among those who sign up for the company's mail magazine by Nov. 29. Oh yes, it will also present the lucky winner with one of the new Jukes, too.
This is "a very rare opportunity" to win a set of stormtrooper armor because only a limited number of people get to wear the armor even in the movies, a Nissan spokeswoman said. The costume isn't exactly the same as the one used in the films, but it is "close" to the real outfit, the spokeswoman added.
Nissan will also give away gift certificates – each worth Y5,000 ($50) – to 100 people, again by lottery.
Outside fancy dress parties and Halloween, it isn't clear what use anyone apart from a a geekish collector of Star Wars paraphernalia would have for the armor. It certainly doesn't seem the best outfit for driving the new Juke.
In fact motoring in full stormtrooper dress might attract unwanted attention from the authorities. In a YouTube video a stormtrooper wannabe can be seen getting a warning from a police officer for driving in costume.
Saying "This isn't the droid driver you're looking for"  is unlikely to work on such occasions.