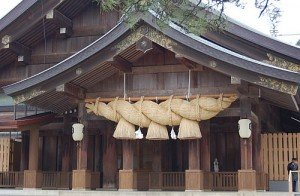 Many Japanese were visiting the 
Ise Grand Shrine
 in central 
Japan
 on Wednesday, ahead of an important ritual that is closed to the public.
The event dates back 1300 years and involves the rebuilding of the shrine. All of the sacred wooden buildings at the site in Mie Prefecture are dismantled and built anew every 20 years.The event reaches a climax on Wednesday evening with the ritual transfer of the shrine's deity to its new sanctuary. Worshippers prayed at the old sanctuary for the last time.
Shrine officials are preparing a special passage-way for the deity, lit with paper lanterns.
A group of 150 priests will make the transfer to the new building.