Japan can be a quite expensive country to visit. Still lately it has become a lot cheaper due to the weak yen so you can get a lot more yens for your euro's and dollars than you did a few years ago. Admittedly, land prices are one of the most expensive in the world, which is why hotel rooms tend to be small and a lot more expensive than other countries around the world. If you have trouble finding an affordable accommodation, then please consider these alternatives.
1. Internet Cafes/Comic Book Cafes/Manga Kissaten
Price:  varies; around 800 yen to 1,500 yen per night (5 to 8 hours)
manga café (漫画喫茶, マンガ喫茶 mangakissa, "kissa" being short for "kissaten" which means café or cafeteria) is a kind of café in Japan where people can read manga. People pay for the time they stay in the café. Most manga cafés also offer internet access like internet cafés (ネットカフェ netto kafe) and vice versa, making the two terms mostly interchangeable in Japan. (One large chain, Popeye, uses the term "media cafe"). Additional services include video games, television, snack/beverage vending machine, and more. Like Japanese cafés in general, smoking is usually permitted.
For an hour's stay, the cost is generally about 400 yen, with most places requiring customers to pay this as a minimum even if leaving earlier. Some manga cafés offer a service where one can stay for the night.
2. Hostels
Price: from free to about 6,000 yen per night
Hostels are known throughout the world as the place to stay if you are a  backpackers or a student. Still like with the hotel rooms in Japan, hostels tend to be more expensive here than in other parts of the world. Also accommodations, although clean, do not attract the same kind of people you might meet in other parts of the world so the atmosphere is not what you would expect from a hostel. Then again it is still usually a bargain and good value for money so definitely one to consider when you are in Japan. Here  and here are some links to hostel websites for Tokyo, Japan.
If you have ever stayed in a hostel you know that  in a few smaller ones they might just offer you bed and boarding if you don't mind doing some odd jobs, man the reception or clean the rooms. Tokyo is, fortunately, not exeption. Here are some hostels that will offer you room and board for the same deal Khaosan, AsakusaSmile, and Yayoda Guesthouse.
If you come to Japan on a tourist visa you really ought to check the Ministry of Foreign Affairs of Japan first. You are not allowed to work and receive payment for what you do, but you are allowed to do volunteer work. So as long as you do not receive payment you are generally okay. Still it is smart to check with the Japanese embassy in your country to see what is allowed with your visa and what is not. I know from stories that the police often checks places that are notorious for hiring foreigners and who are not too hung up on the right credentials or having the right visa. If caught the company will get a small fine, whereas the people working there will be arrested and can be sent to jail.
3. WWOOF Japan
Price: 5,500 yen for a one year membership
If you are not afraid to work and want to experience truly what it means to stay in Japan, then WOOFF might be the thing for you.
WWOOF is a means to make friends, and to share and exchange with those friends
Hosts give WWOOFers accommodation and all meals in return for the WWOOFer assisting the Host. Hosts also give WWOOFers various knowledge and skills as result living and working with them, Japanese culture & Japanese language, and other resources most often outlined in the Hosts' Preview. There is no payment of money between Host and WWOOFer. WWOOFers need to pay just the yearly WWOOF membership fee, 5,500 yen (It is about 55 US dollars). WWOOFing starts by sending an online application form.
Hosts include organic farmers, usually not using much machinery and instead using their hands to grow safe and fresh vegetables, fruits, and tend to animals.
"Friends just like family"
When visiting hosts, you are neither a guest nor a worker, but a part of the host's place – like friends and family members are. Based on the rhythms you see at the host's place you'll be thinking about what you can do to help-out, and what you can learn and experience in doing so. The host will give the same back to you. Living chores are often a part of the day: ie., preparing meals and cleaning up.  Open your heart.  Listen to your friends' instructions.
Here and here are some other websites that are similar to WOOFF.
4. Camping
Price: from free to about 1,500 yen per night
As its image does not necessarily match with the traditional-ultra modern facets of Japan, camping is a choice of accommodation, which is often forgotten by visitors to the archipelago.
However, you can find more than 2 000 campsites throughout Japan with prices ranging from500 to 1500 yen per night.
The main problem remains their location. Indeed, they are sometimes difficult to access.That is why it is best to check their location and the transport available in the area beforehand. Some campsites are connected with a bus network but many of them can only be accessed by car.
However, they are often located right next to hot springs, in a calm and preserved natural environment. Just visit the city's tourist office where you are staying to get information about local camp sites.
Finding your camp site
The Japan National Tourism Organization offers a list ofJapan's main camp sites.
This list covers all regions in Japan. It is a good place start if you want to create your "nature-oriented" trip to Japan.
The list not only provides the address of the campsite, but it also gives information on local attractions, prices and access to the site.
You will find the list here. Take a look at the last page: it is the best way to easily localize the campsites.
If you cannot find what you are looking for on the JNTO list, the Mapple website lists more than 2000 campsite addresses in Japan.
Each campsite can easily be localized through its description page. A star rating system allows you to distinguish between all the different references.
Camping in the Tokyo area
Camping in Tokyo area will definitely allow for a wide variety of experiences, from the urban experience of the electric city to the more nature orientated visits possible in the region.
Opt for a campsite close to a JR station to avoid having to rent a car. Most Japanese campsites rent and sell all the necessary camping supplies except for food and clothing.
The Hikarigaoka Park is a great place to camp just outside of Tokyo. It is just a 5-minute walk from the Hikarigaoka metro stop on the Toei Oedo line.
This campsite is really a breath of fresh air in a very urban neighborhood. The site is equipped with a football pitch, basketball and tennis courts and even an aviary.
The Jonanjima Seaside Park located on the south side of Tokyo city-center, is an essential spot for camping.
It offers more than 1000 pitches for campers! But keep in mind that the pitches are taken up very quickly especially between late July and early August.
A bit further away, is the Ina Camping Village, located 10 minutes from the Musashimasuko station on the Itsukaichi line. It offers a wide range of accomodation from tents to cottages. You can rent all necessary camping equipment as well as a barbecue kit.
Hikawa Campsite also offers camping pitches, chalets and camping supplies. It is a 5-minute walk from Okutama station (2 hours by train from Tokyo city center). Perfect to recharge your batteries for a few days.
Finding free campsites
The Hatinosu website is specialized in free campsites. The red label is for campsites which charge a fee and the blue for the free ones.
The website is in Japanese but thanks to the automatic google translation system, you will easily be able to make your choice.
For a unique experience, head for Niijima: a volcanic island, which is part of the Izu archipelago, off the coast of Tokyo.
With its extraordinary white sand beach, its remarkable onsen and its peaceful atmosphere, it is often compared to Okinawa.
The icing on the cake, you can camp for free just a few steps away from the beach for example atHabushi-ura Camp Jo!
Bear in mind that there are many free municipal campsites. They offer free access to both bathroom and kitchen. Moreover, many are located next to beaches.
5. Couchsurfing
Price: free
Couchsurfing is a good way to meet new friends, get information by locals and see the world while receiving free accommodation.
You have friends all over the world, you just haven't met them yet.
Couchsurfing is a service that connects members to a global community of travelers. Use Couchsurfing to find a place to stay or share your home and hometown with travellers.Couchsurfers organize regular events in 100,000 cities around the world. There's always something to do and new friends to meet. Just bear in mind that you are a guest at someone's home. You are not staying in a hotel. So you should try to minimize the daily life of the person you are staying with as little as possible. Another drawback is that people generally are not too fond of you if you overstay your welcome so couchsurfing is only ideal if you plan to stay somewhere a few nights only. Some people who have gardens often times will allow you to pitch a tent in there if you bring one. That way you are less of a nuisance and have more privacy.
From people who have done couchsurfing in Japan I have heard that it is much more challenging to find a place than it is in other countries in the world. Many Japanese live in small apartments and simply do not have the room to accommodate you. Also many do not speak English or very little so they are not too keen to accept people in their home with whom they cannot communicate.
6. Overnight Buses
Price: about 2,500 yen to 11,000 yen one way (one night)
Japan has a reputation of being an astronomically expensive country. To be sure, it's not a budget destination, but one of the biggest expenses travelers face — intra-country travel — doesn't have to leave you with an empty wallet.
Many people purchase the JR rail pass which provides unlimited travel within the country's train system for a specified period of time. This can be one of the most convenient and fastest methods of traversing the country, but the price tag is a little hefty and, for our itinerary, would be as expensive as buying individual train tickets. Instead, take the Willer Express company's overnight buses. Overnight buses can be one of the slowest and most uncomfortable methods of transport, but bus tickets in Japan are a fraction of the price of train tickets. Plus, they save you the cost of two nights spent in hotels.
7. Homestays
Price: free to about 50,000 yen per month
If you want to study Japanese and see first hand what the Japanese lifestyle  is all about, then homestays are the thing for you.  You get to sleep with a Japanese family who will explain all about life in Japan, the traditions and the customs. You will eat and sleep with the family and often times they will take you on interesting outings. Again, just like with the couchsurfing option, remember this is not a hotel. You are a guest in someones house so abide by the rules and try not to get into anyones way or step on anyones toes. Here are some websites that will help you if you are looking for a homestay address in Japan.Homestay Web, Homestay in Japan, Homestay Booking
8. Capsule Hotels
Price: 2,000 yen to 5,000 yen per night (also available around 300 yen to 600 yen per hour for naps)
A capsule hotel (カプセルホテル kapuseru hoteru) is a type of hotel developed in Japan that features a large number of extremely small "rooms" (capsules) intended to provide cheap and basic overnight accommodation for guests not requiring the services offered by more conventional hotels.
The guest space is reduced in size to a modular plastic or fiberglass block roughly 2 by 1 by 1.25 m (6 ft 7 in by 3 ft 3 in by 4 ft 1 in), providing room to sleep. Facilities range in entertainment offerings (most include a television, an electronic console, and wireless internet connection). These capsules are stacked side by side and two units top to bottom, with steps providing access to the second level rooms. Luggage is stored in a locker. Privacy is ensured by a curtain or a fibreglass door at the open end of the capsule. Washrooms are communal and some hotels include restaurants (or at least vending machines), pools, and other entertainment facilities. Guests are asked not to smoke or eat in the capsules.

Capsule hotels vary widely in size, some having only fifty or so capsules and others over 700. Many are used primarily by men. There are also capsule hotels with separate male and female sleeping quarters. Clothes and shoes are sometimes exchanged for ayukata and slippers on entry. A towel may also be provided. The benefit of these hotels is convenience and price, usually around ¥2000-4000 a night.
Certain visitors (especially on weekdays) may be too drunk to safely return home, or too embarrassed to face their spouses. With continued recession in Japan, as of early 2010 more and more guests – roughly 30% at the Capsule Hotel Shinjuku 510 in Tokyo – were either unemployed or underemployed and were renting capsules by the month.

This style of hotel accommodation was developed in Japan and has not gained popularity outside of the country, although Western variants known as "pod hotels"[6] with larger accommodations and often private baths are being developed.
Most capsule hotels are  found around railway stations, since they are often used by people who've missed the last train. Here is a comprehensive list of capsule hotels in Tokyo if you prefer not to stumble in the dark trying to find one that will cater to your needs.
9. Economy Hotels
Price: 2,500 yen to 6,000 yen per night
Japan offers a wide range of accommodation types in both Japanese and Western styles, including some unconventional forms such as capsule hotels and temple lodgings. Rates range from less than 2,000 yen per person in a dormitory to over 25,000 yen per person in a first class hotel or ryokan. If you do not like to stay with a bunch of rowdy youngsters but you are not willing to break the bank and book a ryokan, then perhaps the budget hotel is more the thing for you. Here are some websites listed that will help you on your way: Economy Backpacker's Hotel New Koyo, Economy Hotel Azuma
10. Fast food restaurants
Price: the price of food (ex: about 700 yen for one value meal)
There are quite a few places in Japan (especially Tokyo) that are open 24/7. Mc Donald's is probably the most well known but there are other places such as Royal host and Wendy's. Here is a link to some other places that serve somewhat better food and are also open 24/7. At some places they will not appreciate it if you nod off, but places like McD you can go full out and rest you head on the table for a good snore.
11. Love Hotels

Price: 6,000-10,000 yen per room per night
Love hotels can be found all over Japan and, as their name suggests, exist primarily to allow couples to have some private time together. While the concept of hotel rooms intended more for love-making than for sleeping may seem distasteful to Westerners, in Japan they're just matter-of-fact practicalities. Young people often live with their parents well into their twenties, and grandparents sometimes move in with their children once they're retired, so couples have good reason for wanting a bit of extra privacy now and again. While it's not generally possible to reserve rooms, love hotels are so numerous (there are more than 30,000 nationwide), that you're almost certain to find a free room somewhere without too much trouble. Prices for an overnight stay vary greatly depending on the location of the hotel, and on what special features the rooms have, but are typically around ¥6,000 to ¥10,000. Two of the best (though certainly not the cheapest) are the P&A Plaza in Tokyo's Shibuya district, where you can choose between a swimming pool and a cave bath, and Snow Man's in Kobe, which has an open-air room on the roof. In Tokyo you can always go to Shibuya's Dogenzaka, which is a well known area for love hotels. Just find the Shibuya 109 building, take either the left or right street and go into the side streets behind Shibuya 109. For more information on  Japan's Love Hotels just click on the link.

12. Rental Offices
Price: around 500 yen per hour
When you think of where to spend the night, a rental office might not be the first thing that pops in you head. Usually rental offices are used for business men who need some quiet time to work on their important proposal for instance. However if you go to the website of Tsukasa Rental Office and Tsukasa Netroom for example, you will find that it is also the perfect place to dose off for an hour or two if you are on a budget.
13. Guest house
Price: between 5,000 and 9,000 yen per night.
A guesthouse (or "gaijin house", meaning "foreigner house") is an inexpensive type of accommodation for foreigners, who stay in Japan for one month or longer, and who want to avoid the hassle and the expense of renting and furnishing a conventional apartment. Some guesthouses also offer weekly contracts.
There are many guesthouses in Tokyo, but they can also be found in other major Japanese cities. While some are single, independently managed houses, others are owned by realty companies, which may operate multiple houses across the city. Some companies maintain a "foreigners only" policy.
Guesthouses come as shared or private apartments and with Japanese or Western style rooms. Naturally, private apartments are more expensive than rooms in shared apartments, where kitchen and bathrooms are typically shared.
Depending on the room and company, the monthly rent for a shared apartment in Tokyo is typically between 40,000 and 100,000 yen per person per month, while a private apartment usually costs at least 100,000 yen per month. Whether cost for utilities is included depends on the company.
Guesthouses do not tend to be the newest or most modern buildings, although the apartments are usually equipped with basic kitchen utensils, a futon, a pay phone, and possibly a television.
By living in a guesthouse, a foreigner has the opportunity to closely experience Japanese everyday life, buy food and household goods in Japanese supermarkets, dispose of garbage in the correct way, etc.
14. Ryokan

Price: about 4,000 yen per night and up
Ryokans are Japanese style inns found throughout the country, especially in hot spring resorts. More than just a place to sleep, ryokan are an opportunity to experience the traditional Japanese lifestyle and hospitality, incorporating elements such as tatami floors, futon beds, Japanese style baths and local cuisine, making them popular with both Japanese and foreign tourists alike.
There are many different kinds of ryokan, varying greatly in terms of size, cost and style. Some ryokan are small, family run establishments with just a few rooms, while others are large, hotel-like facilities with hundreds of rooms. Ryokan also range from no-frills, budget varieties to costly establishments catering to the very wealthy.
While extremes exist, the average cost of a ryokan stay is between 15,000 and 25,000 yen per person, per night. While this may be too expensive to stay at everyday, it is well worth indulging on one special night during your travels. Also keep in mind that ryokan stays usually include an elaborate dinner in the evening, followed by breakfast the next morning. Meals are typically kaiseki ryori (Japanese haute cuisine) that feature local and seasonal specialties.
Because of their emphasis on traditional style and atmosphere, ryokan may appear rigid and intimidating for the first timer unfamiliar with the procedures and etiquette. In reality they are a special and relaxing experience that everyone should take the opportunity to try. In order to help set your mind at ease, the following pages offer an explanation of what to expect during a ryokan visit.
15. Minshuku
Price: about 3,000 yen per night and up
A
Minshuku are Japanese style bed and breakfasts, which are usually family operated. They offer visitors a good opportunity to meet a a local family and experience the traditional Japanese lifestyle.
Like in a ryokan, guests stay in Japanese style rooms, sleep on a futon and have the opportunity to take a Japanese bath. Dinner and breakfast are sometimes included.
Typical rates for minshuku range between 5,000 and 9,000 yen per night and person, but some no-frills places ask for less than 4,000 yen per night.
Go to the Minshuku Network website to find a minshuku that suits your personal needs.
16. Temple Lodging
Price: 3,000 yen per nigh
It is possible for tourists to spend the night at some Buddhist temple lodgings (shukubo). A stay often includes two vegetarian meals and the opportunity to join the morning prayers. One of the best places to experience a night at a temple is Mount Koya. Go to the Temple Lodging website to find other temples that offer shukubo.
17. Business Hotels

Price: 5,000 yen per night and up
Business hotels can be found readily across Japan, providing economical and no-frills accommodation to travelers. The charge is typically between 5,000 and 10,000 yen per night for a single room, and many hotels also have a few twin or double rooms for typically 7,000 to 12,000 yen. Although rooms are relatively small, they are usually clean and well kept, with an attached bathroom.
Basic amenities such as soap, shampoo, toothbrush and toothpaste, razors, cotton buds, shower caps and towels are normally provided. Most rooms also come with a television, an air conditioner, a telephone, a hairdryer, an empty refrigerator and a water boiler with complimentary green tea bags.
Internet access is almost always available in the rooms via a LAN cable or wireless, while some hotels also provide some computers in the lobby or business center. Internet access is often free, but some hotels may charge a fee of usually less then 1500 yen for a day's usage. Pay-TV is frequently available; typically the guest can purchase a prepaid card at a machine placed along the corridor, and then slot it into a card reader in his room to gain access to the channels.
In most business hotels, there is a common room located every two or three floors where vending machines and coin-operated washing machines are placed. Coin-operated drying machines are also often available. Should an iron be needed, it is sometimes placed in this room. Otherwise, make the request to the service counter, and if available, it would usually be brought to your room.
Some business hotels adopt a self check-in and check-out system through machines placed in the lobby. Upon checking in, the guest makes payment for the room and receives his room key in the form of a card. Upon checking out, the guest inserts the room key into the machine, which consequently informs the guest should there be any additional charges. Upon making payment (if any), the guest receives a receipt and the checkout process is complete.
Some business hotel chains, such as Route Inn, APA Hotel, Super Hotel, Daiwa Roynet Hotel, Dormy Inn and Toyoko Inn, operate dozens of hotels across Japan, often in convenient locations near railway stations orexpressway exits.
18. Karaoke Box
Price: Around 500 yen per hour per person
A karaoke boxes is a small private room to enjoy Karaoke. Most karaoke places have different sized of rooms depending on the number of guest
As well as internet cafes, Karaoke boxes can be seen almost every city and many of them have a overnight fixed fee plan, too. The price range is also similar to that of internet cafes. The fee is usually a little higher on weekends. The room is relatively quiet cause each room is made of soundproof construction. You can have a nap or you can shout and shout through the night according to its intended use.
19. Weekly/Monthly Apartment Rentals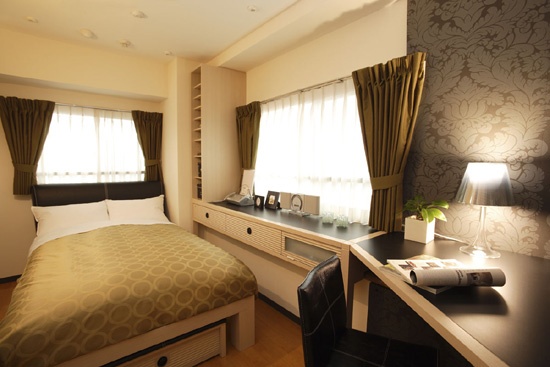 Price: 25,000 per month and up
Weekly or monthly apartments are places where you can get a furnished room for an extended period of time. You usually pay by week or month. These are often called "mansions" although in Japanese that is just another word for an apartment. When I first went looking for houses I was impressed by the name, but apparently the world mansion means something totally different here. It is usually not a very roomy places, but generally adequate enough to fulfil your needs.
Here are a few places which do or do not include utilities:
Including Utilities (all)
1. Sakura House: ( _ ) –Many bed types (1R-3LDK). Please note mixed reviews about housing conditions and customer service. NO Japanese citizens. Have huge range of housing in a varied area.
2. J-Accomodation: http://www.j-accommodation.com/ — 1 bed types (1R, 1K, etc.) and also some guest houses
3. Family Monthly (2+ beds, no single beds) http://www.family-monthly.com/
4. Oakhouse — http://www.oakhouse.jp/eng Many bed types but difficult to search/discover room type. No Japanese citizens allowed to stay.
5. Ichii Corporation — http://tokyoeasyrent.com/en/ — Various apartments here for good price. They also have a good reputation.
6. Fujimoto Real Estate Sales — http://www.fujitomo-fh.com/
7. Fujimihouse — allows Japanese citizens. Does everything from guest houses to apartments. If you have children, please contact them in advance. Apartment sizes mostly under 25M.
More expensive apartments and/or houses:
6. SIHM Tokyo Real Estate http://www.sihm.co.jp/ — "hotel" like apartments — in the 500K a month range
7. Furnished Apartment Tokyo — http://www.furnished-apartment-tokyo.com/apartments.html Another "hotel like" business apartment website, in the 230-400K range
8. Overseas Corporation — http://www.overseas.co.jp/ — apartments from 200K up
9. Monthly Apartment Tokyo — http://www.monthly-apartment-tokyo.com/search/ — from 1 – 3 Bed, on the expensive side but high quality
10 http://www.space-d.co.jp/en/
Some apartments at these websites include utilities
1. Tokyo Rent — http://www.tokyorent.com/ — 1R to 2DK houses.
2. Oakridge Apartments — http://www.oakridge-housing.com/ — cheap, very basic apartments. Short term apartments include utilities. Long term apartments do not. 1DK – 2DK apartments.
3. Home Search LTD — http://www.homesearch.co.jp/index.php — hard to tell but I think some of the properties come with utilities, depending on the lease term.
None or very few of these include utilities
1. Tokyo City Apartments — http://www.tokyocityapartments.net/searchresult/ — Includes many room types (1R – 3LDK), bright, clean looking. ANY nationality welcome — thus if you are Non-Japanese with a Japanese spouse or significant other, you can choose these. No charge for utility set up, I think they help.
2. Housing Japan (not sure if it includes utilities or not, doesn't say on website) — http://www.housingjapan.com/ — Rent house or apartment. Downside is lack of photos for apartments.
3. Hikari Homes — Non direct link:http://www.tokyoapartment81.com Direct link http://apartments.gaijinpot.com/hikari — please note you need a J-guarantor or a guarantor company
4. http://best-estate.jp/en/
Not stated on website whether they include utilities or not: 
Tokyo Living – http://www.tokyoliving.net/www.tokyoliving.net/Menu.html — reasonably priced apartments listed by size as opposed to type.
http://www.t-hal.com/indexEE.html
 UNSORTED
http://www.jafnet.co.jp/plus/month_top/indexe.html
http://www.bridgelife.jp/
http://www.hoyotokyo.jp/english/apartment/apa_area.html#sinjuku
20. Riders' Houses
Price: 500 yen to 8,000 yen per night
Extremely cheap places mainly for motorcyclists. You may need your own sleeping bag. The price range is 0-1500 yen per night. Many of them are underperforming (it is almost volunteerism). As well as Toho-yados, many riders houses are in Hokkaido. It would be ideal for budget cyclists travelling in Hokkaido or throughout Japan. Check the Gaijin Bikers in Japan website for where to stay. There are some more useful websites Aso Rider House in Kumamoto Prefecture and Rider House Joyful in Nagano Prefecture.
21. A night train
Despite Japan's expansive network of Bullet trains, and some of the world's busiest domestic air routes, a few sleeper trains still survive, carrying passengers directly from the heart of the great metropolises to small destinations at the far reaches of the country. Despite a reputation to the contrary, Japan is actually a medium sized country, and more to the point it is long and thin, and spread over several islands, so domestic journeys are often much longer than we're used to in the UK. Imagine getting on a train amidst the hustle and bustle of Tokyo or Osaka, and then spending a leisurely day watching a whole country speeding past outside. Mountain ranges roamed by bears and wild boar are interspersed with tiny villages surrounded by rice paddies, giant forests, and big industrial cities. You can retire to bed as the sun sets over the sea, and wake up the next morning in the snowy wilds of Hokkaido, or crossing the Great Seto Bridge to the island of Shikoku.
The most popular night train in Japan is the Cassiopeia, which is also the most luxurious – all accommodation being in private rooms. It leaves Tokyo every second day in the late afternoon, and travels up the pacific coast, through the world's longest undersea tunnel to Hokkaido, finally arriving in the far northern city of Sapporo at about nine-thirty the next morning. While not quite as luxurious, the Twilight Express from Osaka is the king of night trains. It begins its journey just before noon, passing through Kyoto, then around the shore of Lake Biwa, Japan's biggest lake, and up the sparsely populated Sea of Japan coast, before it also passes through the tunnel to Hokkaido, arriving in Sapporo shortly after the Cassiopeia. The epic journey takes around 22 hours and covers 929 miles – making it by far the longest train route in Japan. The biggest draw on both these trains are the private suitesat the back. You can lie in bed facing the big picture window that spans the rear of the train, watching the scenery fade away behind as you journey north. You need to book early to obtain these premium suites, but even if you can't get one, the Cassiopeia offers a consolation – a lounge car at the other end of the train which, on the return journey, makes a similar view available to everyone.
If boats are more your thing than trains, a parallel experience is available on overnight ferries to the islands south of Tokyo, or to tropical Okinawa in Japan's far south-west, as well as on host of coastal ferries connecting Japan's four main islands. Most routes offer a similar range of accommodation options to night trains, and the chance to reach parts of Japan rarely experienced by foreign visitors. Whether you choose to make the journey in luxury or sleeping on the floor, travelling overnight by train or boat can be an unforgettable experience, and not only do you avoid wasting a day of your holiday travelling, you also save on cost of one night's hotel accommodation. Train bookings can be made at JR ticket offices nationwide. Cassiopeia has a special webpage in English, but for the Twilight Express details are only available in Japanese.
Update: In May 2012, JR Kyushu announced plans for a new 'cruise train' that will take sightseers on two-day or four-day cruises around the Kyushu railway network. All trips will start and end at Hakata station in Fukuoka. The longer trips will head down the east coast of Kyushu passing through Miyazaki and Kagoshima, and returning via Aso volcano and the hot-spring resort Yufuin. The two-day cruises will first head to Nagasaki, and then return to Fukuoka via Aso and Yufuin. Each cabin will have an en suite shower and toilet, and even the smallest will be ten square metres – as big as a small appartment in Tokyo. There will be an observation room at the front of the train, a bar and a dining car. Operations are scheduled to begin in late 2013, and tickets prices will range from ¥150,000 to ¥550,000. See the official website for more information.
22. Toho-yado
Toho-yado is a generic name of accommodations that belong to Toho Network http://www.toho.net/english.html.
The style is something like between backpackers hostels and Minshuku.
Most Toho-yados are family-owned accommodation and they serve breakfast (some serve dinner, too). Most of their guest rooms are dormitories. The average rate is around 5000-7000 yen with two meals, which is quite cheap. Many Toho-yados concentrate in Hokkaido. If you plan to travel Hokkaido, please consider this as an option. You might have some difficulties to communicate in English with some Toho-yados, so please ask some help to a native Japanese when you make a booking.
23. Sleep at a bath house or onsen
In big cities, there are usually bath houses or onens. The facility is some kinds of sauna, Japanese style bath with shower and one or more rest rooms. Usually some temporary sleeping gears are installed in those rest rooms and you can take a nap as if you were in a dormitory room of a hostel, though your roommates would be exhausted office workers instead of backpackers. Normally the overnight price is around 3000 to 4000 yen per person.
If you enjoyed this article then please like my facebook page www.facebook.com/tokiotours