With the cost of property in Tokyo so high, and an estimated 6,000 people squeezed into every square kilometre of the city, more and more urbanites are starting to think small. As well as choosing tiny houses that provide everything required for living but with none of the clutter, people are learning that life is far easier if, rather than yearning for their own private spaces and a multitude of possessions, they learn to share.
Following in the footsteps of movements such as last winter's Warm Share, which offered incentives to members of the public who frequented designated–heated–public areas instead of sitting at home with their air-con cranked up, a number of "share spaces" are cropping up all over Tokyo, inviting both business people and freelance workers to use their facilities rather than staying in an office or cooped up at home.
So throw your laptop in your bag and come with us as we take a quick look at eight of Tokyo's trendiest shared places to work.
Offering a wide variety of workspaces and the facilities you'd find in most modern offices but with a cooler, comfier vibe, share spaces are a sign of things to come in urban Japan. With high-speed internet access practically everywhere, ultra-portable computers, and data always obtainable from the cloud, many jobs can be done without the need for a dedicated office. But when team members need to get together, or when individuals simply need a place to work other than their own home, where can we turn?
Enter share spaces.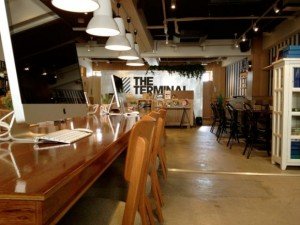 It might look a little bit like an Internet cafe, but you won't find anyone playing WoW here. For 380 yen (US$3.80) per hour or 1,000 yen ($10.15) for three, freelancers at The Terminal can enjoy the facilities of a typical office without needing to suit up or clock in. Those with a lot of work to get through can pay 2,000 yen and remain glued to their computer for the entire day, while business types can rent private meeting rooms for 5,000 yen per hour.
Other facilities on offer include: space for giving presentations, copy machine access, access to additional power outlets, space for relaxing and reading, drink service, a roof garden for smokers, and of course wireless internet access.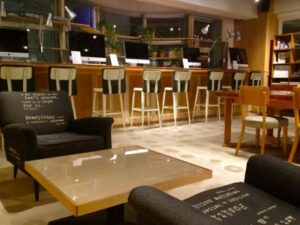 ▼ A cute and cosy presentation room, complete with projector.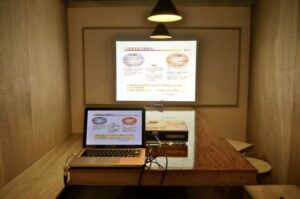 2. Portal Point Kita Aoyama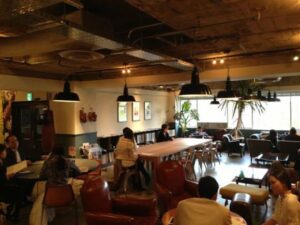 Situated between trendy Omotesando and Gaienmae Station, "Transit Sharestyle Office" Portal Point is a sophisticated blend of a hotel, business centre, and cafe. One of the most extravagant of Tokyo's newest share spaces, a hotel-style concierge service is available at reception, with staff on hand to direct groups or freelancers to the area best suited to their needs and handle future bookings.
With a dedicated conference room, long, well-lit tables for team-based tasks, personal booths for those who prefer cubicle-style office spaces, and even low chairs with coffee tables for those caffeine-fuelled tete-a-tetes, there's something here for everyone. Beware, though, these facilities won't come cheap; prices range from 52,000 yen (US$527) per month for personal-use desks with standard office equipment, to 399,000 yen ($4,000) for offices suitable for small businesses.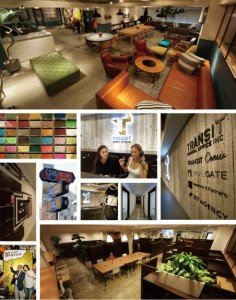 3. Academy Hills Roppongi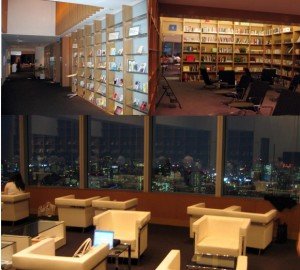 Another marvellously trendy and expensive workspace is Academy Hills, which can be found on the 49th floor of Roppongi Hills' iconic Mori Tower and aims to bring together "space, books, and opportunity." Private study/work spaces can be rented for just 10,000 yen ($100) per month, with creatives and businesspeople alike given full access to an enormous library, desk and meetings spaces, and of course those absolutely stunning views of the surrounding city to take in while getting creative. You'll need to be a 'community member' to gain entry to the facilities, but then if you're hanging around one of Tokyo's poshest areas, chances are you already are!
5. Creative Lounge MOV Shibuya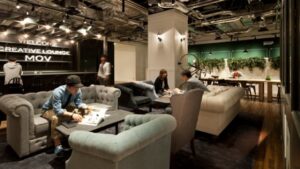 Soft sofas, armchairs and expensive-looking bicycles brought indoors, Creative Lounge MOV is something of a trendster's dream. Boasting nine uniquely decorated meeting rooms costing between 6,000-16,000 yen ($60-162) per session, a spacious, comfortable lounge with rows of private booths, and a "residents' area" which is made up of small rooms designed for individuals or pairs to use on a daily basis, MOV can be forgiven for looking a little like a hangout for the those who refuse to ride anything other than fixies and only listen to bands that no one else has heard of.