Founder/Owner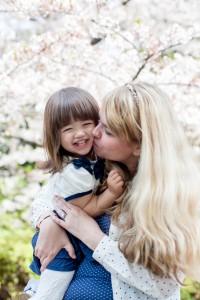 Nicki Yoshihara
My story starts in 2005. At this time I met my current husband and the love of my life with whom I have been happily married since 2011. He is a Japanese that had rooted himself in The Netherlands (my home country) after his family had decided around the time he was born, to follow their dreams and the great unknown and to settle themselves in The Netherlands to start their own business.
My husband always wondered what it would be like to live and work like 'a true Japanese' in Japan. Since he had lived in The Netherlands practically all his life, he always wondered what it would be like to come to Japan on a (semi) permanent basis. He put his money where his mouth was, and looked for a job in Tokyo. After I had been convinced he enjoyed living in Japan and didn't want to come back home having to cope with such a completely different environment, I decided to quit my job and follow my love halfway across the globe to enable him to follow his dreams.
By now, we have been living in Japan for quite a few years and I have not regretted it. The culture, the language, the landscape, the customs, the food, it all intrigues and inspires me and still to this day I am amazed about what is happening around me, the things I taste, see, feel, smell and witness in a metropolis like Tokyo.
Who am I?
As you may have picked up from the previous paragraph I am what you might call an adventurous spirit. When I was in university I lived several months in Beijing, China to study the language (as far as one can get a grasp of that in a short period of time) and to write a paper on the (cultural) difficulties that Western companies face when trying to set up shop in China.
When I was still single I often times went on trips with not much more than a lonely planet, my passions and dreams, and some clothes to discover new places and meet new people. One of my passions is to try out new (alley) ways to see where I end up (both literally and figuratively), and to experience new discoveries that you might not see when taking the beaten track. I always count on the fact that if things go wrong, there will be a helping hand nearby that is willing to point me in the right direction.
Inquisitive and a thirst for knowledge are some phrases that really apply to me. I want to squeeze every situation or experience for all it's worth and take out all that I can from it. It is never too late to learn something new, and what I hate the most are missed opportunities. Better to have lived and learned (making plenty of mistakes on the way), rather than living safe and end up with regrets.
Hurray!
Since I became a mom I am unavailable for tours. However, I will not leave you stranded if you want to explore Tokyo! I will leave you in the very capable hands of one of our specialized city navigators listed below. They have been trained by me and can tell you as much (if not more) about Japan, its culture and customs, all the sights and their history, and can answer all questions you might have. All city navigators can speak English fluently and are very flexible. We pride ourselves on making each tour a unique experience and customizing it to our clients' needs as much as possible. Even during a tour we can alter the itinerary to suit your needs, whether you have booked a custom tour in advance, or have booked one of our regular tours.
Our Guides
FOR TOKYO/KAMAKURA/NIKKO/HAKONE TOURS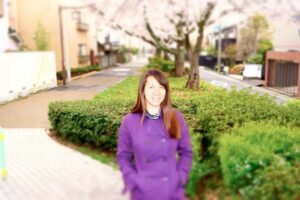 Dutch/English guide Tokyo
Ever since I went to Thailand aged 18 to be a volunteer English teacher I have been fascinated by the Far East. When I wanted to go back a few years later I went on an exchange program to South Korea, and that is where I met my Japanese husband.
We lived in New York City for 3 years, had a son, moved back to Europe for a year and eventually moved to Japan early 2013. This will be the place we call home for the foreseeable future.
It's a privilege to have gotten to know this once mysterious and still wondrous place up close, and I would love to share with you what I have gotten to know during my many walks in the city and my conversations with Japanese people. I will not just tell you about daily life in Japan and what it's like to work for Japanese companies but also take you on a walk through the illustrious history of Japan and then tie the story up into the modern days. All the while we will discover some of the more modern and quirkier sides of this city and culture and you can ask all the questions you ever had about Japan's past and present.
Tokyo (and its surroundings) is the place in Japan where it all comes together, where most that Japan has to offer can be experienced, and where you can have an experience that will leave a lasting impression.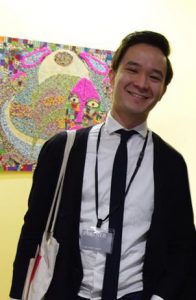 Dutch/English guide Tokyo
What pulled me into Japan was my interest in Japanese feature film, art and subculture, something that as a child I got introduced to behind the limits of a computer screen. When I got selected as a Japanese government-sponsored scholar, it allowed me to fully immerse myself in my interests. I have been living in Japan on this program since early 2013. First I followed full-time Japanese language study, then a master's in media art and currently I'm doing a PhD in contemporary art.
In Tokyo I live in two worlds, the academic world and the professional art world. This has given me the unique opportunity to be around the people who 'make' Tokyo's contemporary culture. It has taken me to the deepest, most underground of places and has paved passage into the metropolis' many subcultures. Because of this unique access, I've been able to share my experiences and knowledge through lectures at several Museums and galleries in The Netherlands.
Living in hectic Tokyo has become effortless, and having lived in three different parts of Tokyo, I know it like the back of my hand. Aside from the pop-culture, urban life, and top spots, I can show you what is currently going on in Tokyo's art scene, as I am involved in the making of its exhibitions. As for those who wish to go deep, I'd be happy to take them all the way. But it's not all work, there is play too. Being a long time Japanese University student, knowing the nightlife and where to find the fun is a must to fulfil each weekend's mission!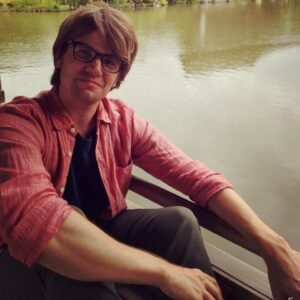 Dutch/English guide Tokyo
After studying Japanese language and culture in Leiden and Kyoto I decided to settle in Tokyo in 2017. Here I study Japanese art history at Keio University, specializing in Japanese woodblock prints (ukiyo-e), a medium closely related to Tokyo and its history.
I enjoy sharing my knowledge of Japanese culture, history and art at Tokyo's landmarks and museums. For those who want to travel a bit more off the beaten track, I'll gladly show you around locals' favourite neighborhoods in this multi-faceted city!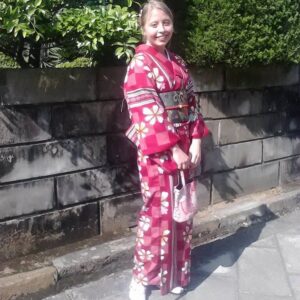 Dutch/English guide Tokyo
Like many other people, my interest in Japan (or more accurately, my obsession) started with anime. From there it snowballed into a deeper infatuation with Japanese music, in particular with Visual Kei, a Japanese music-style originated from glam-rock. It was this powerful interest that would literally shape and change my life: I decided to study Japanese, visited Japan on several short and longer trips and even my wish of getting to live in the country that fascinated me was granted.
I've been living here since 2015, and I started out in Tochigi Prefecture. I got a job as an English Conversation Teacher there and despite initially regretting having to leave Tokyo, I was grateful for the experience of living in the countryside and teaching both kids and adults. I now live in Tokyo again, but now I appreciate Japan's nature and the beauty of ancient sites like Nikko all the more. Still, I also enjoy the hustle and bustle of city-life, the inexhaustible amount of options and entertainments that Tokyo offers. I would like to show both sides of Japan to our visitors, whether their interests are in pop-culture and modern technology or ancient history and legends. Visiting temples and beautiful gardens, experiencing new and exciting cuisine before taking in the sparkling nightlife of Shinjuku and Shibuya; that can be done in Tokyo in a single day.
I'll be delighted to tell you many things while we are experiencing them first-hand. Let's get out there and make some memories!
English/Japanese guide Tokyo
Born and raised in Tokyo, I have always been fascinated with the new and the old that coexist in harmony in this city. Strolling around from iconic sites to hidden back alleys to discover pieces of history and culture is one of my favorite things to do here…along with eating around and singing my heart out in karaoke.
A turning point in my career was 2015, when I lived in Orlando Florida for one year, working at a Japan-themed store in Walt Disney World. I found great joy and passion in sharing the Japanese culture with people from around the world. That's why I have been an English-speaking tour guide for international travelers ever since I came back to Tokyo.
I have also been organizing English-translated traditional crafts and arts workshops, which gives me opportunities to work with talented Japanese craftsmen, performing artists and chefs. The best way to travel is to go with a local friend. If you don't have one in Tokyo, that's where I come in. I look forward to welcoming you to my hometown and offering you a truly local experience.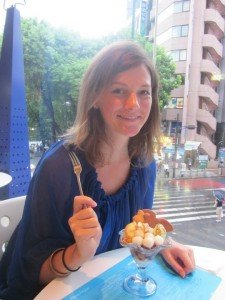 Dutch/English guide Tokyo
I have been interested in Japanese culture since my high school years, and after graduation, I decided to turn that interest into a study at Leiden University. During my Bachelor 'Japanese Studies' I spent one year in Japan as an exchange student, consecutively living in Yamagata, Okinawa and Nagasaki due to circumstances. This experience provided me with a very broad view of Japanese life and how it differs per area. After my Bachelor's Degree, I started the Master 'Asian Studies' at Leiden through which I am now back in Japan, this time in Tokyo.
All in all, I've studied Japanese for over 5 years now and I've come to appreciate the country more and more. The atmosphere, the people, the customs; one is even stranger than the other. Of course, I have yet to solve many of Japan's mysteries but that makes living here all the more interesting. Every day is a new adventure!
It is my passion to share these adventures with others, so when I met Tokiotours' Nicki Yoshihara who provided me with the opportunity to do so via tour guiding I didn't have to think for long. I used to work as a tour guide in Amsterdam which I really enjoyed, so guiding tours in Japan was a perfect opportunity. I always try to show people all the different 'faces' of Tokyo, both historical highlights and 'kodak moments' as well as the daily life of Tokyoites; jaded 'salarymen' packed in trains like cans of sardines and hip youth showing their extravagant fashions in the streets. Since Tokyo is such a vast city, and even now few Japanese speak English, one can easily get lost and wander around for hours in the metropolis. Although some people like to do this intentionally, for all the others a well-informed guide might be just what you need. We are sure to show you the best of Tokyo!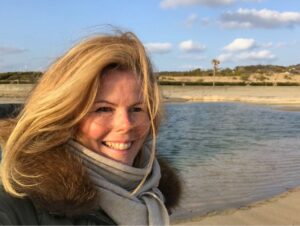 Dutch/English guide Tokyo
I moved to Tokyo in January 2017. To live and work in Japan is the chance of a lifetime. Ancient culture, exquisite cuisine, beautiful landscapes and friendly people; Japan is a world apart. Living abroad as an expat was not my next career step, but the beginning of a new life. My husband and I have made the new house our home and build a social circle from scratch. We like it here!
Since 1997 I have been working in media and publishing: marketing communications, content marketing and custom publishing (marketer, manager, editor, copywriter). I have a natural curiosity for culture and history, people, new places and different food. So it's no wonder I took a job as a tour leader a few years ago.
Japan is a fantastic country to explore and I'm happy to share my enthusiasm and knowledge with foreign visitors. It's really fun to spend time together walking, talking and eating our way through all things new.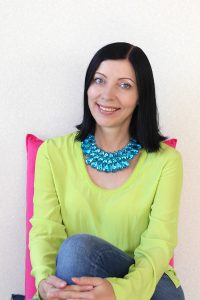 Russian guide Tokyo
I am from Russia, St.Petersburg. I've been living in Japan since 2016, and I have studied Japanese culture and history for a long time. I have been practising tea ceremony for 4 years, and I collect kimonos. If you want to get an in-depth look at this beautiful side of Japanese culture, I will gladly share my knowledge with you while showing you some of the hidden spots in Tokyo.
Besides my work as a tour guide, I also work for a Russian magazine about Japan named "KiMONO" as a photographer and journalist.
Also, if you'd like to know about Japanese fashion and Japanese designers, I can tell you all about it. I won't just talk about fashion, I will also show you clothes shops and boutiques you will not easily find on your own, and help you find your perfect special dress, pants or shirt that no one else will have at home!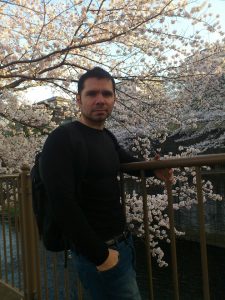 Italian guide Tokyo
Ciao! I am from Italy, and I have been living in Tokyo since 2013.
I'm a big fan of anime and manga so if you would like to visit the most important places related to the 'otaku culture', I am your man! I won't just take you there, you will also hear all about the culture's interesting history and psychology. 
Besides the more modern and crazy side of Tokyo, I will also show you another side of the city by taking you to some of the most significant Buddhist temples and Shinto shrines for a relaxing and spiritual time. If you would like to go outside of the city, I can also take you on a trip to Japan's old political capital Kamakura, after which we can hit the beach in nearby Enoshima.
Do you love sushi? I can take you to some of the most characteristic restaurants in the city, where you will be able to taste the best sushi while I explain what you are eating. Of course, I will also give you my best recommendations, as some seafood may be unknown in most of the rest of the world, it should not be missed while in Japan.
FOR KYOTO/OSAKA/NARA TOURS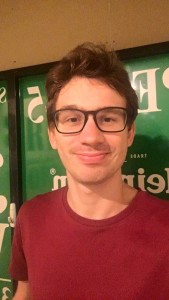 Dutch/English guide Osaka
After finishing my Bachelor's degree in Japan Studies in Leiden, the Netherlands, I went to Seoul National University and then came to Japan to study for a Master's Degree in Chinese Literature.
Besides my work as a guide, I am also a freelance translator (JPN-ENG). I have keen interest in Japanese history and literature, and I am happy to share my knowledge with you.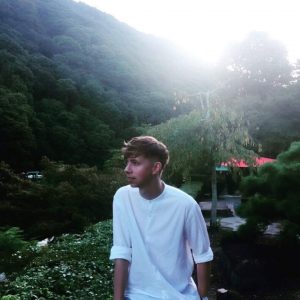 Dutch/English guide Kyoto
I came to Japan to study International Relations, and was lucky enough to end up in one of the most beautiful cities in Japan (maybe even the most beautiful one): Kyoto. I live amongst the temples and beautiful mountains, which I would like to share with you. Which are my interests? It was through Japanese literature that I ended up here, so I love Japanese writers like Haruki Murakami and Junichiro Tanizaki a lot. I also like small, cute cafes and bars, and in the weekend you will often find me in one of the many jazz bars that are hidden in Kyoto. I will show you around with pleasure in Japan, my home away from home.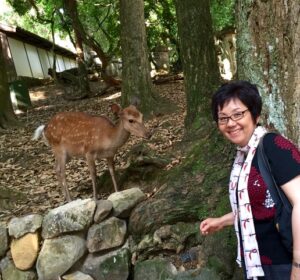 Japanese/English guide Kyoto
I was born and raised in Japan. As a nationally licensed tour-guide, I've been working with tourists from various countries since 2010. I love my job, and I think one of the best parts of it is meeting people from different countries with different customs.
My hobbies are travelling, visiting Buddhist statues at temples, hiking and spending time with my cats. Also, since I'm a trained "Kikizake-shi", Sake sommelier. I would love to recommend the right sake for you depending on your dish!
There are various things unique to Japan such as culture, nature and food, and I'm looking forward to giving depth to your tour experience by sharing my stories and knowledge with you.
Kanazawa tours are also available upon request.
FOR HOKKAIDO TOURS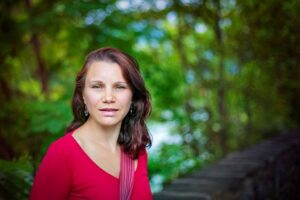 Italian/English guide Hokkaido
I am Italian and came to Japan in 2009 with my Japanese husband. In Italy, I studied Architecture at the University of Venice. Now I live in Hakodate, in Hokkaido, Japan, with my husband and my son.
I am working as an Italian and English teacher and my passion is Argentinian tango. My husband and I met through our shared love of this passionate dance.
What I love most about living in Hokkaido are the beautiful scenery and the majestic vistas. I am from the North of Italy and Hokkaido is not that different from my birthplace in terms of weather and scenery. I love the outdoors and living in Hakodate I have plenty of opportunities to enjoy Japans beautiful nature and wildlife.
FOR KANAZAWA/TAKAYAMA/SHIRAKAWAGO TOURS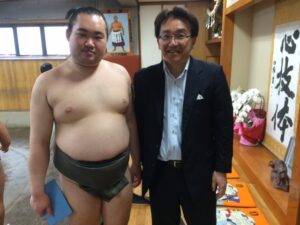 Japanese/English guide Kanazawa
Before becoming a guide I have been working in Finance. I spent 6 years in the US (New York & Chicago) with my family and used to be the controller of a Japanese subsidiary of a Swiss company for 8 years where I frequently visited Zurich and other cities.
Since I lived abroad and dealt with non-Japanese people on a daily basis I got to experience first hand the difference in dealing with foreign people and I have learned a lot about different cultures over the years. Of course being native Japanese myself and having studied as a guide I know everything there is to know about Japanese culture and love to see the similarities and differences.
Soccer has always been a passion of mine. I started when I was in Junior High School and still play the occasional bout.
In a way,  the English language, the world of Finance and soccer are all bridge building tools. Finance is being carried out pretty much the same way where ever you go, English is a common language that unites people of different countries together and most people have a love for soccer so I have found that I had always some common ground which made it easier to relate to people from a different background.
As a tour guide, I would like to welcome you to Japan and lift the veil of mystery that has surrounded the country for too long. As Japan has been closed off for so long to foreigners, it was able to establish a very different culture of any other Asian countries and I can't wait to tell you all about all those interesting aspects such as our Shinto faith, Bushido; the way of the warrior, Japanese cuisine and the world of the geisha and maiko of course. Although I am based in the Takayama/Kanazawa area I also know Kyoto and Hiroshima well so I can even show you around these places should the need arise.
Until we meet!