Description
One of the greatest ways to discover Kamakura, nicknamed 'Little Kyoto', must be by bicycle. There are many sights to see in this charming coastal city south of Tokyo, and by bike, you can see the best of them all within 6 hours!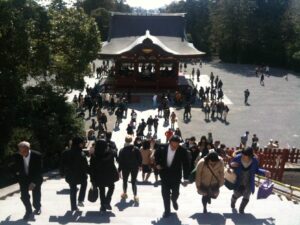 After we rent our cycles we will first stop at the Tsurugaoka Hachimangu, an important temple for a family that was largely responsible of the rise of Kamakura as the political capital of the 12th century. Your guide will tell you about Kamakura's illustrious history and (fun) facts about the temple.
Then we will go to Hokokuji, also known as the 'Bamboo Temple'. This temple is not only interesting because of its history, but also because of its beautiful, mysterious bamboo forest in the garden. If you so desire, you can even have a traditional cup of matcha green tea with a great view of the garden.
After this, it is time to go get our lunch, which we will do in the nearby convenience store as we will be eating it at the pick-nick spot near the next destination. There is a great choice in quality food, and of course, your guide can help you pick a delicious (and cheap) lunch!
Our next destination is on top of a mountain, and it requires a small trek, so even though it is a bicycle tour, good shoes are recommended. On top of the mountain, we might be able to catch a glimpse of Mt. Fuji if we are lucky and the weather is clear. Near this viewpoint, we will first have the lunch we bought earlier, and then we will see the small but interesting love shrine directly behind the lunch spot. Then we will walk a small distance to the Zeniarai Benten Shrine, a Shinto shrine that promises to double your money in an interesting way!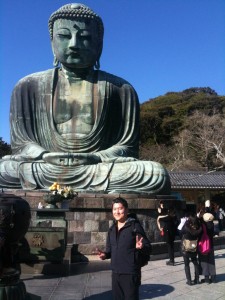 Then we will once more take the bicycles and go to the south-side of Kamakura, where one of the most beautiful Buddhist temples in Japan is situated: the Hase Dera. This temple has many sights on its grounds, and a great view of the bay as well. After we are done taking in the sights, we will go to the famous symbol of Kamakura, the Daibutsu. This is the 2nd tallest bronze Buddha statue in Japan and a great spot for taking pictures as beautiful as a picture postcard.
Finally, we will go to the nearby beach to take a break for 10 minutes before we head back to Kamakura station to return the bicycles. We will then have a bit of time to browse the central shopping street near the station, where you can find great souvenirs, typical small Japanese snacks and more. Then, we will conclude our tour by going back to Tokyo by train.
This tour is offered in English and Dutch. Please inquire at [email protected] for prices and availability.